by Vincent I. Porter
The Best Hotels in Las Vegas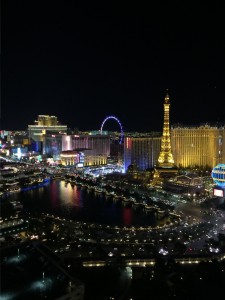 When translated, Las Vegas literally means: The Meadows. Contemporary travellers will be forgiven for failing to see the resemblance on what has now become the strip and the surrounding city area. Nestled in a valley with mountains on all sides, the city of Las Vegas and the surrounding areas have been a popular tourist destination since the mid 20th century. Ever since the Mirage Hotel opened in 1989 hotels have been becoming bigger and bigger. 15 of the top 25 hotels by number of rooms are on the Las Vegas strip. Glamourized in film, and by public perception there is a lot on offer in Sin City.
Starting with the Mirage and its parent company MGM Resorts International, the company own and operate a chain of some of the top hotels on the strip. The Mirage being the oldest mega resort, it has since been overtaken by the MGM Grand, Mandalay Bay, Bellagio, Circus Circus, and the Luxor hotel within the chain. Each of these hotels offers a unique theme and experience to its guests.
The largest hotel complex in Las Vegas is the Venetian and the Palazzo. Set around Italian themes, the hotels even feature a Lamborghini dealership should you get lucky at the casino. Another Unique feature of the Palazzo is that it is the largest LEED Silver Certified building in the US. No easy task considering the city is in the middle of a desert.
Part of the Blackstone group, the Cosmopolitan is considered mid-size of the mega hotels in the area, however, there is nothing mid-range about the hotel. Opened in 2010 it boasts over 110,000 sq. ft of gaming space and just shy of 3,000 rooms. There is no shortage of entertainment in the city itself, but the Cosmopolitan can lay claim to one of the top-grossing night clubs in the country.
With plenty of options, there is no shortage of places to stay and you'll be sure to find something to fit whatever mood you are in.